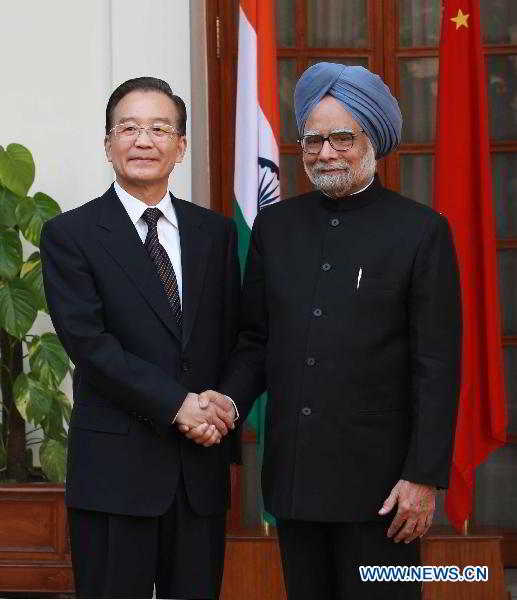 Chinese Premier Wen Jiabao (L) shakes hands with Indian Prime Minister Manmohan Singh in New Delhi, capital of India, Dec. 16, 2010. (Xinhua/Liu Weibing)

Chinese Premier Wen Jiabao and his Indian counterpart Manmohan Singh on Thursday reaffirmed their commitment to promote bilateral relations.

In their talks, Wen said the relationship between China and India has experienced an unusual course of development over the past 60 years. However, friendly cooperation has always been the main stream, which is not only in the interest of both countries and peoples, but also helpful for peace and development of the region and the world at large.

The Chinese premier, who arrived here Wednesday for his second official visit to India following the trip in 2005, pointed out that this year marked the 60th anniversary of the establishment of China-India diplomatic ties.

He said he is satisfied with the progress of bilateral relations over the years and looks forward to the future.

The two countries should grasp the historical opportunity to boost political and strategic mutual trust and move forward the China-India relations along the track of lasting friendship, mutually beneficial cooperation and common development, Wen added.

"I hope my current visit is the one to carry on the past and open a way for future, which will further enhance our win-win cooperation," Wen said.

Singh said that high-level exchanges between China and India have become closer, and political and strategic mutual trust has continuously improved.

He said that the comprehensive cooperation in all fields has been enhanced ever since the two countries established a strategic and cooperative partnership for peace and prosperity five years ago.

At present, the two countries are at a crucial stage of development, Singh said.

He said the enhancement of communications and cooperation was not only conducive to the development of India and China, but also will push forward the rejuvenation of Asia and promote world peace and development.

"I believe the visit of Premier Wen will give a new impetus to bilateral relations," Singh said.

During their talks, Wen and Singh agreed to establish a mechanism for regular exchanges of visits between heads of state/government. They also welcomed the opening of a telephone hotline between the Chinese premier and Indian prime minister and agreed on regular consultations between the two leaders on issues of importance to both countries.

Wen and Singh agreed to continue making use of the meeting mechanism between special representatives in border issues, and to seek fair, reasonable and mutually acceptable solutions to the issues through negotiations.

The two sides should work jointly to maintain peace and tranquility in the border areas before the issues are fully resolved, the leaders agreed.

Both sides, meanwhile, decided to establish a strategic economic dialogue mechanism and a China-India CEO's forum, and to set a new bilateral trade target of 100 billion U.S. dollars by 2015.

During the meeting, the Chinese side said it will increase import from India and facilitate the access of India's IT products, pharmaceuticals and agriculture products to the Chinese market.

India welcomed the Chinese enterprises' participation in India's transportation infrastructure construction.

The two countries declared that the year of 2011 will be the "Year of China-India Exchange," during which each side will invite 500 youth from the other side for a visit. A variety of activities will be held so as to help deepen exchanges and cooperation in the media and education fields and to promote mutual understanding of the two countries and carry on their ever-lasting friendship.

The two sides agreed that, as the world's two biggest developing nations, China and India share wide-ranging common interests in international affairs, and the two countries will strengthen coordination and cooperation in important international organizations, such as the United Nations, and the mechanisms like the Group of 20 and the BRIC nations, which also include Brazil and Russia.

Both sides said they hold similar stances on the issue of climate change and have maintained fine communication and coordination in this regard, and vowed joint efforts to safeguard their common interests and push forward the process of international cooperation on climate change.

During the talks, Singh said that the Tibet Autonomous Region is a part of the Chinese territory, and that the Indian government does not allow anyone to carry out anti-Chinese activities on its land.

Premier Wen expressed his appreciation for India's stand and hoped the Indian side will adhere to the correct position on this issue.

Wen said that, for long, out of friendship with India and humanitarian concerns, China has overcome difficulties to provide India with documents and materials on cross-border water and rivers which are necessary for India in times of emergency.

Wen said China will continue to do so. Singh, on his part, expressed his gratitude for that.

During their meeting, the two leaders also exchanged views on regional situations.

After their talks, both leaders witnessed the signing of a number of cooperation agreements by both sides in the fields of economy, culture, environmental protection and media. The two sides also issued a joint communique.

Also on Thursday, Premier Wen delivered a speech at the Indian Council of World Affairs.

India is the first leg of Wen's two-nation tour. He is also to pay an official visit to Pakistan beginning Friday.